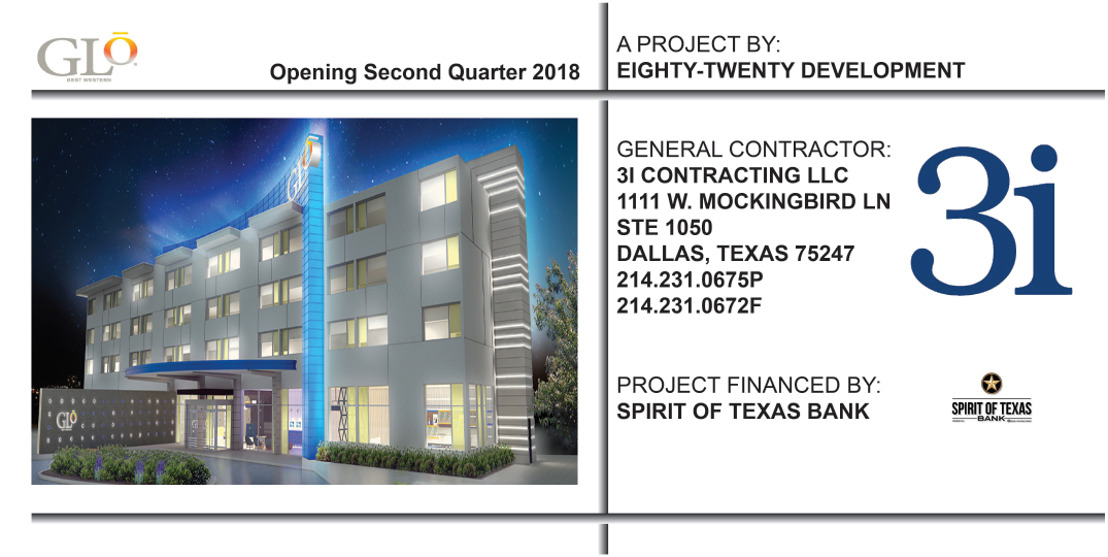 3I BUILDS SUBURBAN BOUTIQUE BRAND HOTEL
BEST WESTERN HOTELS & RESORTS GLō Brand
Thursday, June 1, 2017 — Eighty-Twenty Development, Irving-based developer has chosen 3i as the General Contractor to build it's newest project…Best Western's 7th Brand - GLō. This brand is a broad-midscale new construction brand offering a hip, boutique-style experience for savvy travelers who expect the best in value, design, and comfort. GLō's name exemplifies itself through architecture and design elements that speak to the name of the use of signature LED elements. GLō is the latest addition to Best Western Hotel's and Resorts growing family of brands.
"3i is proud to be the first General Contractor in the Southern Sector to build this exciting brand for Best Western. Our commitment of Integrity, Innovation, and Information is in alignment with this brand's identity and we look forward to the economic growth of DeSoto, Texas and are proud to be a part of building this city's future…Micheal Williams – President/CEO-3i Contracting LLC"
GLō is breaking the suburban cookie-cutter hotel mold offering a boutique product and experience. It will focus on a dramatically iconic arrival experience; streamlined, contemporary guestrooms; stylish, cost-effective materials; revolutionary architecture and design; space-saving furnishings and the strategic use of unique LED lighting. Ideal for secondary, suburban and highway locations, GLō is positioned to hold a powerful new place in the broad-midscale market.
3i Contracting LLC is a Commercial General Contractor – The corporate office is located in Dallas, Texas, with satellite offices located in Houston and San Antonio, Texas. At 3i Contracting, the primary goal is ensuring clients receive the highest level of customer service imaginable.
# # #
If you would like more information about this topic, please contact Denita Quinn - Achieve PR at 469.426.1148 or email dbt@3icontracting.com.
Denita Quinn President, Achieve PR