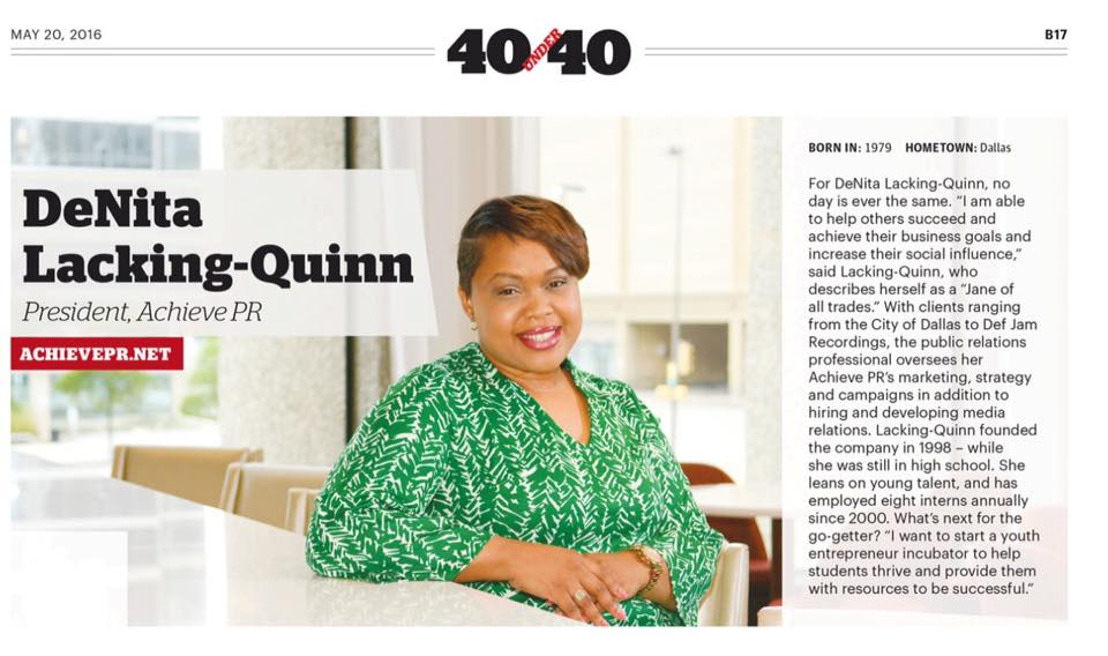 Achieve PR President/CEO DeNita Lacking-Quinn named Dallas Business Journal's "40 Under 40"
Sunday, May 29, 2016 — Achieve PR President/CEO Denita L. Lacking-Quinn, was honored during the Dallas Business Journal "40 under 40" awards held at the newly renovated Westin Dallas Downtown, May 19, 2016. This year, the 40 Under 40 judges were very clear: A record of service in the Dallas-Fort Worth community would set apart honorees from among a pool of nearly 500 nominations. So, while the chosen 40 area heavy hitters are great at their day jobs, they also devote hours and days out of each and every week to the North Texas community via Anna Butler Associate Editor, Dallas Business Journal
Recognized as an award-winning expert and accomplished entrepreneur in the public relations social media management, corporate engagement industries, Denita Lacking-Quinn, founder of Achieve PR, has built one of the fastest growing boutique firms in North Texas. Her enterprising background lends to her deep-rooted understanding of consumer influence, trend-setting and spotting and buying behaviors. As a Press Club of Dallas Board member, she is as passionate about public service as she is about public relations. She volunteers her time and expertise to various civic organizations including the American Diabetes Association of North Texas, Heads Up! Foundation, Recording Academy Texas Chapter, and Ramsey Estates Homeowners Association.
Her passion for service and achieving publicity with a purpose has successfully kept the most distinguished media outlets saturated with her client roster comprised of top-tier entertainers, corporate and lifestyle brands. A trail-blazer and powerhouse strategic advisor, Denita has been a force behind some of the most recognized public relations campaigns for clients such as Lions Gate Entertainment, DJ Spinderella (Salt N Pepa), Dallas Black Chamber of Commerce, Steed Society Female Success Factor - Top 25 Women in Dallas, North Texas Black Restaurant Week, DFW Black Bloggers, and Saving Our Daughters.
She is a recent recipient of the NAACP (Grand Prairie) Women's Entrepreneurship Award and acknowledged as a Who's Who in Black Dallas for her outstanding commitment to bettering the PR field and her community. Apart from an impressive rolodex of internationally recognized clients, her love for strategy, problem solving and all around good business practices undeniably reflect DeNita's entrepreneurial disposition and dexterous work ethic as APR continues to show exponential growth and success both by the numbers and most importantly reputation.
Denita is an avid student, successfully completing courses from Harvard, M.I.T and Tuck Executive Education at Dartmouth. She is also a Google and Bing Certified Professional with over five Federal Government Contract Regulation certifications from the National Contract Management Association and Institute for Supply Management.
Achieve PR Achieve Public Relations, Achieve PR