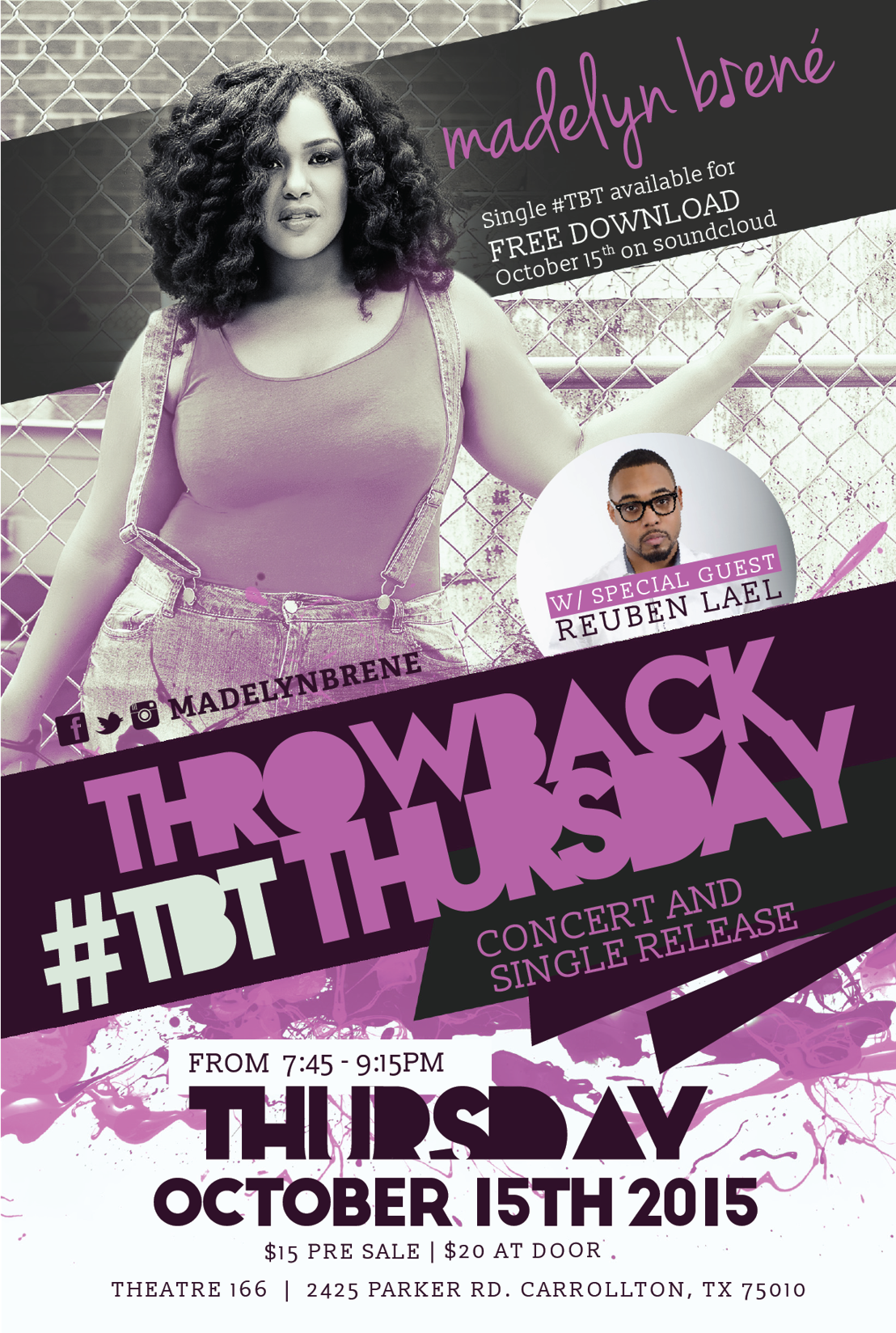 New Single Release for Music Sensation Madelyn Brené With Special Guest Reuben Lael
Singer/Songwriter Madelyn Brené will hold a public concert for fans and industry professionals at the Theatre 166 on October 15th, the same day her new single "#TBT" will be released.
Monday, October 5, 2015 — Join R&B Soul sensation Madelyn Brené for an evening of music as she celebrates the official release of her new single "#TBT." The '90s inspired new single will be sure to take you back in-time to the fun, fresh and lyrically intriguing summer days of the '90s.
The multi-talented classically trained vocalist has performed various roles in U.S. and European cities. Ms. Brené has been seen with Dallas Opera, the Vocal Art Symposium in Colorado Springs, Co and as the opening act for Tony Award winner Jennifer Holiday.
The October 15th concert is the 10th show produced by singer/songwriter Madelyn Brené and she is celebrating in a big way. This fun filled evening of music will feature Madelyn's originals, a surprise medley and the debut of her new single Throwback Thursday "#TBT."Throwback Thursday will be available for free download October 15th on SoundCloud!
Madelyn will be joined by special guest singer, songwriter, and musician Reuben Lael. Reuben Lael is a fresh new voice taking the urban gospel scene by storm! Passionately combining ministry and innovative musicality, the 24-year-old is from the hometown of Dallas, Texas. Reuben is a graduate of Southern University and A&M College (Music Vocal Performance), and has been blessed to sing for some of the artists he is inspired by, including Mary Mary, Bebe Winans, Byron Cage, The Clark Sisters & J. Moss. He has also appeared on the Bobby Jones New Artist Showcase and the 2009 BET Sunday Best. His debut project, "Introducing: Reuben Lael," has received outstanding reviews of his vocal range, talent and anointing. His newest EP, "Heart of the Matter," was released on iTunes in November 2013.
Pre-sale tickets can be purchased for $15 online at www.MadelynBrene.com and $20 at the door.
In addition to an excelling performing career Madelyn serves as the principal voice instructor for Heights Preparatory School, Dallas Theater Summer Stage Program, MBF Vocal Studio and an associate member of the Grammy Recording Academy-Texas Chapter. She has studied with renowned teachers Nancy Elledge, Joan Heller, Barbara Hill- Moore, Earline Vincent, G. A. Clay and piano with Dr. Thelma Franklin Merrick.
For more information about the singer/songwriter please visit her website at www.MadelynBrene.com.
Victoria Moore Publicist, Achieve PR