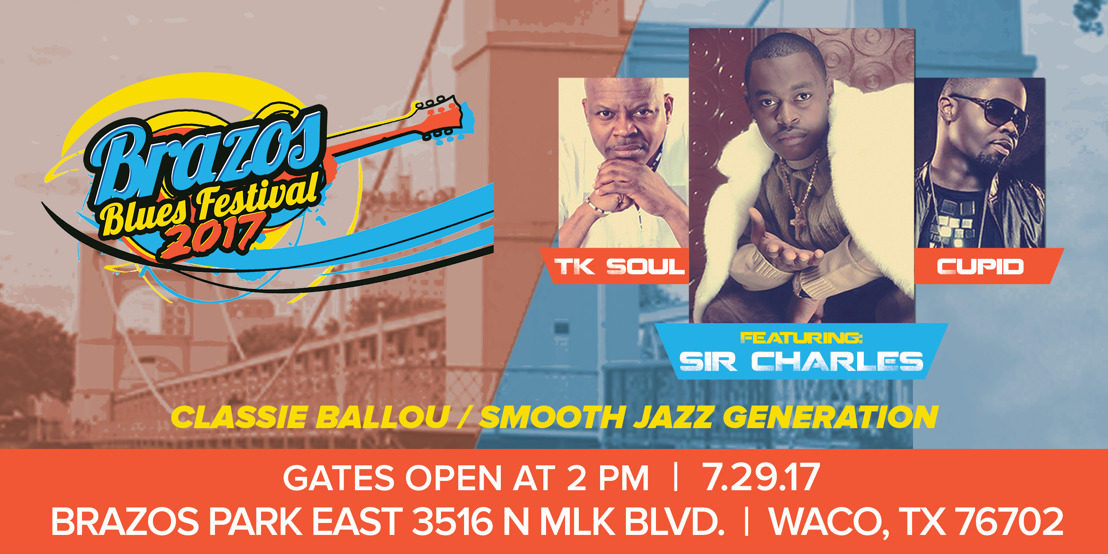 Waco Brazos Blues Festival
Featuring, Sir Charles Jones, TK Soul, Cupid, and more
Thursday, June 15, 2017 — New Era Booking and 94.5 The Beat present the Waco Brazos Blues Festival Featuring, Sir Charles Jones, TK Soul, Cupid, and more, July 29, 2017, at Brazos Park East (3516 N Martin Luther King Blvd. Waco, TX 76704), Gates Open at 2:00 p.m. and will end at 10:00 p.m..
FEATURED ARTIST
Sir Charles Jones
Sir Charles Jones is an artist whose part-throwback, part-modern style of R&B is based on traditional Southern soul and blues. The vocalist, songwriter, producer, and multi-instrumentalist calls himself the Undisputed King of Southern Soul. He releases his music independently, outside the major-label system. Born in Ohio, raised in Alabama, and later based in Georgia, he received early support from Marvin Sease and began his recording career in 2000 with a self-titled album. Several of his full-length releases, including the debut, Love Machine (2002), and My Story (2008), have appeared on Billboard's Top R&B/Hip-Hop Albums chart. Well into the latter half of the 2010s, he continued to record and remained a busy touring musician through small-scale gigs and soul and blues festivals alike. ~ Andy Kellman, Rovi
TK Soul
Louisiana-born Terence Kimble August, aka "T.K. Soul, went from school choir to church choir to playing with local bands before getting his break with a local group called Under 21, which changed it's name to Profyle. Soul was discovered by R & B group H-Town who hired him for keyboards. Soul worked primarily on the road with he group before doing the same for fellow Southern Soul artist Willie Clayton. Soul even wrote two hits for Clayton ("Wiggle", "Party Like Back In The Day") before starting his own label, Soulful Records. After two Pop/R & B albums Soul scored a huge hit album called "Love Games" on the Chitlin' Circuit featuring the hit single "Cheating & Lying". Since then he's positioned himself as one of the stars of the genre. His latest CD, "Undisputed: The Album", is his most successful yet.
Cupid
In 2007, Bryson "Cupid" Bernard shuffled his way into the hearts of millions with the up-tempo party song "Cupid Shuffle," which also inspired the popular dance craze of the same name. From appearances on nationally syndicated TV and radio talk shows such as Dr. Oz, Steve Harvey and Tom Joyner to breaking the Guinness Book of World Records in 2008 for the largest line dance assembled with over 17k people, Cupid has virtually reshaped dance music and created an entirely new genre. When the Lafayette, LA native composed "Cupid Shuffle" he had no idea that the song or he would turn into a global entertainment phenomenon taking his talents to distant lands like Dubai and Germany. "It still amazes me that my music has resonated with so many different kinds of people," says Cupid. "Music is truly a universal language because it unites individuals of different ages, cultures, backgrounds, and beliefs with a single purpose of having a good time, at least that's my goal. I want to lift spirits and change the way people feel when they hear a Cupid record." Given the culturally rich melting pot environment, Cupid was raised in, his sound is Blues-influenced, Rock-influenced, Soul-influenced, Gospel-influenced, and Hip-Hop-influenced. It's no wonder his brand is able to effortlessly transcend racial and generational boundaries.
New Era Booking & Management Firm is highly experienced in booking and managing quality entertainment. Our company is comprised of multiple businesses designed to help artists acquire their creative goals. We also help promoters and talent buyers acquire music artists, actors, athletes and entertainers for their events. We strive to provide the highest quality music and entertainment available. New Era Booking provides services, which include: Artist Booking, Business Management, Consulting and Marketing & Promotions. We bridge the gap between promoters and entertainers while making the booking experience a pleasant and stress-free experience.
For sponsorship information contact Paul Franklin at Paul@NewEraBooking.Com. For all media/interview request contact Denita Lacking-Quinn dlquinn@achievepr.net.
Denita Quinn President, Achieve PR